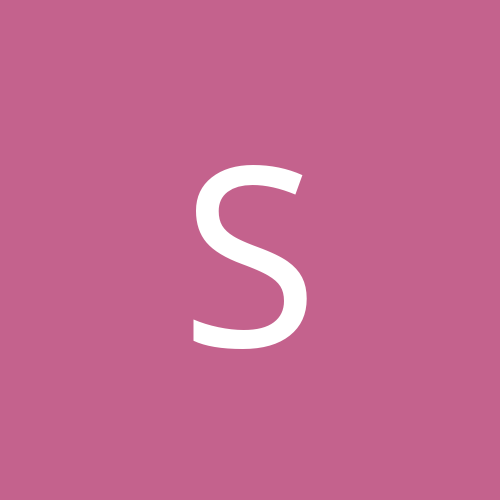 Content count

29

Joined

Last visited
Community Reputation
6
Neutral
About seattlehd

It doesn't really look that bad but could have used airbags or a helper spring to level the back a little but it was not near the payload or GVWR max.

Sorry I'm a little late to the conversation.... To the answer the OP's question, 90% of the time I tow my 2017 s238 with a 2017 1 ton Silverado Duramax. Definitely overkill but it does the job efficiently and safely. With that said I have also towed the boat with a few other vehicles when my 1-ton was busy towing our travel trailer. Here is my experience with other tow vehicles: Boat loaded with all gear, full fuel and 800 "lead" ballast, scaled at 8100: 1. 2017 GMC Sierra Denali (6.2) - Plenty of power but you could feel a slight bounce from the boat and the trailer. I think that the magnetic ride control was doing something funny to give the feeling of bouncing because I don't have that problem on any other tow vehicle when setup exactly the same. 2. 2005 2500hd Duramax - Plenty of power and always felt safe Boat stripped of gear, lead ballast and half tank of fuel scaled at 7030: 1. 2018 Chevy Colorado Duramax (tow rating 7600) - Towed surprisingly well for a smaller truck with no bouncing or feeling of being pushed around. Needed almost every ounce of power to hold 60 on a VERY steep 1-mile section of a mountain highway in Washington but had plenty of power on lesser grades and in all other situations.

I put them on my 17' s238 and the pattern and font match perfectly. Highly recommended.

Thanks for the tip. I'll be corking these next weekend for sure . I battled a constant leak out the side vents all day and ended up having to top off the bags every time we switched riders. Could be a coincidence but it was our first weekend out after adding another 400 pounds of lead (800 total) so we were sitting lower in rear than usual.

Wetsounds had an issue with some of the SYN-DX2's that power the upgraded REV8 option on multiple Supreme models. You may have a bad one also? That wouldn't explain the bow speaker popping but it could be your tower issue. Cwazy (pretty sure he did) and I both got a new tower amp from our dealer under warranty and I believe a 3rd person from our dealer also got one.

I've had an issue with upholestry warranty also. My new 238 was delivered with 3 damaged cushions in May and they still have not been replaced. Mine aren't a safety hazard like mrr's but the length of time to get them replaced is interesting. It's not hurting my surfing time so I've just let it slide for now. I'm assuming Supreme goes through the same upholestry line as the Centurions?

Just wondering if anyone has seen this happen before... I was out on my friends 2015 x23 with the upgraded 7.4 motor cruising at 30mph with ballast unloaded and 8 passengers in 40 feet of water. We heard a light thunk and the motor reved and we lost power. We quickly realized that we had no power even though the transmission was engaging. My friend jumped in the water and found that the entire drive shaft with prop was gone and we were taking on water rather quickly. We were able to keep the boat afloat using bilge pumps and a ballast pump and got towed quickly back to the launch and on the trailer. After our nerves calmed down we started looking into what went wrong and found that the drive shaft had broken all the way at the transmission and apparently shot itself out the back. We are positive we didn't hit anything and there is no damage to the tracking fins or bottom of the boat. Has anyone heard of something like this before?

I was thinking the same thing. Use a good cleaner to remove any UV protectant cleaner you may have used in the past and set it in the sun to see if mother nature's UV's will take care of it.

Maybe everyone else is embarrassed to admit that they're hitting it? Or we have freakishly short legs? Lol.

Cwazy, did you see that the emergency shut of switch is in the same bad place?!

I've never felt I needed anything on the seats or floor after adding 800ish in additional PnP in the rear (my upgraded 1100 bags don't fill all the way) and 400 in lead. There is still room for more PnP under the side seats or more lead if you want also. It took us 20 hours of fiddling but I've got ours dialed in pretty well and we enjoy it a lot.

I love my 2017 and would buy it again. Very few problems and nothing major enough to warrant a trip to the dealer before winter. Except for maintenance of course. Like MFaso said, the surf wave really benefits from extra weight. I've upgraded the PnP bags to 1100's and run 200 pounds of lead behind each bag also. Very surfable once you get the tabs dialed in for your water.

I just purchased my membership and joined a few months ago after we ordered our s238. Thanks to everyone for the great conversation that has helped a ton already.

We've found that the charcoal vinyl looks great but is wicked hot when it has been sitting in the sun. Hot to the point that we have to cover the sun deck with towels just to load kids into the boat without burning their feet (water definitely helps). We do surf where it is 90+ every day but wish the vinyl stayed a little cooler for the little ones. I'm not sure I would have ordered a different color since it looks awesome but I definitely pay a lot more attention to keeping it wet or covered when we have toddlers onboard.