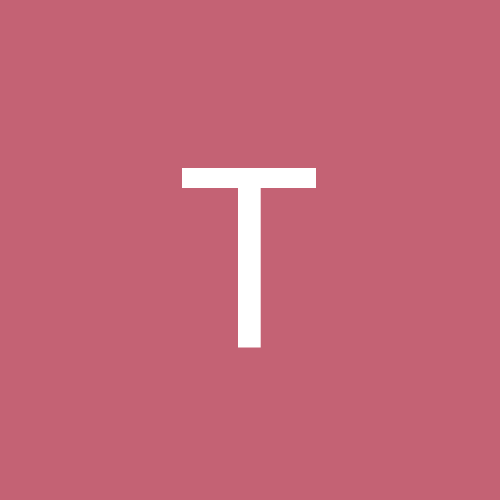 Content count

64

Joined

Last visited

Days Won

2
Community Reputation
8
Neutral
About Timr71

Hi Hud, Nice looking Falcon. Glad you got it running good again. As to your question the NADA boat guide says that a 1991 Falcon weighs 2500 lbs. Your single axle trailer doesn't weigh 1000 lbs for sure. Maybe 750ish. Keep in mind that your boat has about a 25 gallon gas tank and so that'll add another 175 lbs when it's full. I think you'll be fine, just don't overload the boat (or the vehicle) with other heavy stuff. Enjoy the boat, looks great! I see some classic wood skis in there. -Tim

Also, join us in the Falcon and Tru-Trac thread if you have more questions or things to share with the "older" boat owners. Tru-Trac & Falcon Thread

Wow! That's a great looking boat. I have a '93 Falcon open bow. I've only ever seen the V-Drive in the brochures. Which, I think I have by the way. Shoot me a PM with your email address and I'll send them to you. And yes, I can confirm that all Falcons from 1994 came equipped with a 25 gallon tank. (or so says the brochure.)

That Bolster should be removable from the cap, but I would imagine that the fiberglass behind it has a half moon cut to allow the speaker to have clearance. When you lifted the cap, did you lave the bolster attached? I'm assuming that you'll remove it to get them reupholstered. Are you going to keep the spartan head logo on the new upholstery? When I did my boat, I lost all of the centurion logos and graphics.

Bakes online had the pop up cleats with Centurion engraved on them. However, when I called to purchase two they only had 1 left. I ended up with these. Pop Up Cleats

You have a picture of your Falcon? Post it here and/or in the Falcon / Tru Trac thread please. I'd like to see what yours looks like. Thanks.

Sorry. Throw that thing up on eBay and see if you can get it sold. I found my shaft paperwork and the one that I bought was 44" long and it fits great. Finding a 51" without having it made...I guess like I said, all of the brands, Mastercraft, Nautique, Ski Supreme, Ski Brendella, etc. used 1" od shafts back then, so you'll have to search far and wide to try and find one. Otherwise it's call Skidim or Marine hardware and have them start making you one. That's going to cost a bit of $$$.

another resource you can reach out to is Marine Hardware. marine hardware  

Do you have it out of the boat and are you sure that i's 51" L? That seems long to me. I think mine was 42" This one looks like it should fit. 1" drive shaft.  

It's definitely a 1" shaft. I had to replace mine too...1993 Falcon open bow. I ended up finding one off eBay. I think the one I got came out of a ski supreme. 1 inch shafts were the norm back then. You can switch to a 1"1/8 but you'll need a new transmission coupler, new shaft log, may need a new strut, need new strut bearings, and a new prop to fit the larger diameter.

There's not a lot of places to choose from. others on her can chime in. You can put non-flush mount speakers, small ones on the dash, you can also place speakers into the dash if you can find enough room. Most just put them behind the driver's and passenger seats on the side. You'll have to probably make enclosures for them and sacrifice some storage space there.

Austin - here's one on iboats that looks like it might work with your tower. https://www.iboats.com/shop/westland-sharkskin-plus-eta22xs-semi-custom-boat-cover.html

@86SKI take a look at this...for ballast. https://www.wakegarage.com/projects-archive/ballast-projects/lead-bags-r163/

I think you'll have to make some cut outs for your tower feet. You'll need someone who's good with a needle and thread. Modifying an existing cover will probably be your cheapest route. Otherwise you can have a custom or semi-custom cover made.

@86SKI So, I've been giving this some thought on how to respond. Here's my random thoughts: 1. All boats are different, and I'm not just talking about hull and models, I mean each and every boat is different. Because they're hand made, no two are alike. So there's some difference between two of the same model that came out of the factory right next to each other. 2. Weight and balance are also a huge issue. My boat and my cousin's boat are the same hull from the deck down, and they ski differently, but both good. with regard to weight, we think that my boat has a little less height on the wake due to the weight of the seat structure that we put in the open bow. What happens there is that slight bit more weight in the nose pivots the boat down a bit and lifts the rear slightly. 3. weight in the back of the boat is an issue too. your boat will ski differently with a full tank than with a nearly empty tank. 4. the prop will influence the turbulence on the top of the wake shelf. And it'll impact the rooster tail too. Allegedly, the new ACME 541 that I just fitted softens the turbulent area, but I can't say that it does or doesn't because I haven't skied it enough to notice. Plus I'm trying to come to grips with a new to me ski, so I'm not paying that much attention to what's hitting my legs when I'm crossing the wake. I would suggest two things: 1. Get your prop sorted out and 2. experiment with some weight in the nose of your boat. Not a lot of weight though, maybe just like 75 lbs or so. The Centurion Carbon Pro comes with a small ballast tank on the passenger side that can be filled with just the right amount of water to balance the boat against the weight of the driver. The only negative to a little weight in the front is that it causes the boat to ride a bit more down in the water so it displaces more. Everything is a trade off though, you know?